IMPORTANT!
Your Tepui Hybox (8001HB103, 8001HB112), Tepui Hybox Wedge (8001HB203), Thule Tepui Hybox (901100) or Thule Tepui Hybox Wedge (901110) rooftop tent manufactured January 1, 2018 through April 28, 2021 is being recalled.
Please stop using these products immediately.
For all Tepui branded rooftop tents there is no date code sticker to reference.
For Thule Tepui branded rooftop tents, you can determine if your rooftop tent falls within the recall population by looking at the product number and date code, which is located on the driver´s side rear hinge.
See below photos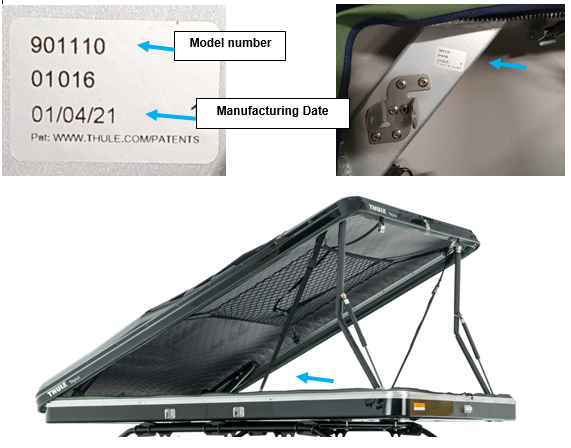 What do we want you to do?
We request that you take the following immediate actions:
Locate the product label on the driver´s side rear; and
Confirm model number and manufacturing date:

Product Item numbers – 901100 or 901110
Date code is in Month/Day/Year format.
Product numbers 8001HB103, 8001HB112 & 8001HB203- there will be no date present on the rooftop tent. All production dates for these models are impacted.




If you have a product within the recalled date code period, we ask you to take the following actions:
Immediately stop using the Tepui Hybox, Tepui Hybox Wedge, Thule Tepui HyBox or Thule Tepui HyBox Wedge rooftop tent.
Register using the form below for a full refund or a free of charge replacement tent to be shipped directly to you.
Once registered, the Thule Group will reach out to coordinate logistics to take possession of your recalled Tepui Hybox, Tepui Hybox Wedge, Thule Tepui HyBox or HyBox Wedge, free of charge.
Please be advised that you will not be charged anything in connection with this recall. If you have incurred any cost for remedies in advance of this notice, please contact Thule for reimbursement. Reasonable supporting documentation will be requested.
If you have any additional queries please do not hesitate to visit Thule's website www.thule.com/hyboxrecall or contact Thule Customer Service:
If we fail to or are unable to remedy the issue free of charge within a reasonable amount of time, you may submit a complaint to the Administrator, National Highway Traffic Safety Administration, 1200 New Jersey Ave, SE, Washington, DC 20590 or call the agency's toll-free Vehicle Safety Hotline at 888-327-4236 (TTY: 1–800–424–9153); or go to http://www.safercar.gov.
Please note this recall for replacement of product is limited to the units with a Tepui or Thule Tepui logo and produced between January 1, 2018 and April 28, 2021 and does not affect any units produced after May 1, 2021.
We sincerely thank you for your co-operation and we apologize for any inconvenience.